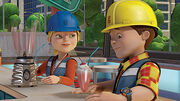 Milkshake Mix Up is the second episode of the Bob The Builder 2015 series.
Plot
Bob and his team were finishing off Chef Tattie's Milkshake Bar before the grand opening. Scoop, Muck and Lofty look at the milkshake sculpture and Lofty says it's wicked and Bob says it will spin with the help of Wendy. Scoop says the bar will be a fun place just as Chef Tattie arrives with a box of fruit to experiment the "Tattie-licious Shake-tastic Surprise" while the team finish building. Two-Tonne arrives ready to make concrete. Scoop says he and Two-Tonne can have fun with the concrete. Two-Tonne says he should never mess with concrete and they will be making the usual concrete. Tattie asks Bob and Wendy to taste his milkshakes. Scoop and Muck see Tattie make milkshakes for Bob and Wendy to have. Scoop decides to not make the usual concrete. Instead, he will be mixing the "Scoopa-licous Concrete-tastic Surprise". Muck isn't so sure about it while Scoop tells Two-Tonne he's ready to mix. Two-Tonne thinks he's making the usual concrete. Scoop gathers leaves and rubbish down the tube to mix. Meanwhile, Wendy says both milkshakes are delicious and Bob still isn't so sure what he thought. Two-Tonne release the concrete Scoop makes before the team go to bed. That night, Muck is worried about the concrete. In the morning, Scoop and Bob look at the concrete and it's not dry. Lofty finds rubbish and Scoop owns up. Bob has an idea and Muck takes him to the yard and brings back Dizzy and packets of colourful cement and crunchy gravel chunks for Scoop to mix up with. The road looks colourful and both Bob and Wendy love Tattie's last experiment which was just strawberries.
Characters
Home Media Releases
UK/US
Ad blocker interference detected!
Wikia is a free-to-use site that makes money from advertising. We have a modified experience for viewers using ad blockers

Wikia is not accessible if you've made further modifications. Remove the custom ad blocker rule(s) and the page will load as expected.